This is a video sent to us of a previous puppy named Bella. Here, her owner is demonstrating the commands that Bella knows at just 16 weeks! Doodles have intelligent and willing to learn temperaments which makes them perfect for a wide range of abilities extending from basic training and obedience to incredible service dogs!
If you are interested in having your puppy in our training and obedience program please visit our Services page for more information!
Pictures of Previous Doodles!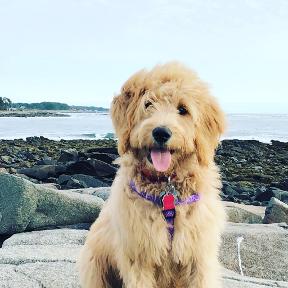 Meet Penny! She is an F1 Goldendoodle who lives in New England with her family! Here is a testimonial from her owner:
"On July 13, 2018, I found my true love, my beautiful Goldendoodle, Penny. All thanks to Valley Star Goldendoodles. The breeder, Rebecca, guided me to the perfect pup. Penny has a precious demeanor. She loves all people, dogs and cats. Her favorite thing to do is hang out with her friends and go for long walks. She is very smart too and easily trained. I don't know how Rebecca bread such a wonderful dog, but I'm grateful she did. I'd highly recommend Valley Star Goldendoodles to anyone."
"I think the best way I can describe Boomer is that every time someone sees him they say that he is one happy dog, he literally is bouncing to meet new people. His personality is infectious and has brought so much fun and happiness to my life. Boomer is quick to learn and picks up new commands and tricks in no time. He has lots of energy, and is always ready to play both with humans and other dogs. He ABSOLUTELY loves toys, running around outside, and meeting new friends. The process of selecting a puppy and communicating with Rebecca was a breeze, and I enjoyed constant puppy photos and updates along the way. I cannot recommend Rebecca and her pups enough! I can't wait to come home everyday and see my boys smiling face!"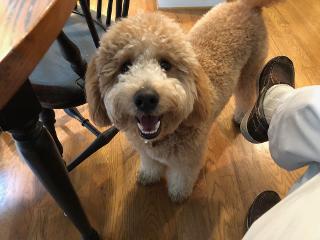 Valley Star Golden Doodles, the treasured ad would say,
With photo of a puppy looking handsome, bright and strong;
Could he replace our treasured Buzz who sadly passed away
Was he the answer to our prayers, to us would he belong?
We called to find out more about this precious puppy's breed.
Rebecca praised the combo of retriever poodle mix,
The attributes of both she said work very well indeed
They're very smart and quick to learn, he'll soon be doing tricks.
This male whose name was Brady was the last pup of the litter
His vet check was all up to date, his papers well in order.
So off we drove, my son and I, a puppy to consider
From Richmond several hours drive across the Maryland border.
Rebecca was there to greet us and introduce his mother,
She gave us all the papers suggesting things to do,
The kind of food he'd like to eat, fun things to do together
This six-pound pup was ours to love and care for by our crew.
Agreeing on price we drove him home, he slept the total way;
Set out to buy some puppy food and toys to chew and play.
He sleeps all through the night and listens to what we say;
House broken now and good as gold, companion for the day.
I had to change the puppy's name from Brady 'cause you see,
I am an Eagles fan and Patriots Brady could not be;
So we named him Bailey and he's adjusted well
Going through some basic training, learns quickly we can tell.
And so we thank Rebecca, who introduced this breed,
And thank her for our Bailey, so smart and cute indeed.
We'd recommend her highly as her pups are near and dear
And wish her well through many years, give her a rousing cheer!