This is a video sent to us of a previous puppy named Bella. Here, her owner is demonstrating the commands that Bella knows at just 16 weeks! Doodles have intelligent and willing to learn temperaments which makes them perfect for a wide range of abilities extending from basic training and obedience to incredible service dogs!
If you are interested in having your puppy in our training and obedience program please visit our Services page for more information!
Pictures of Previous Doodles!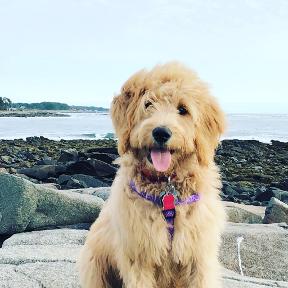 Meet Penny! She is an F1 Goldendoodle who lives in New England with her family! Here is a testimonial from her owner:
"On July 13, 2018, I found my true love, my beautiful Goldendoodle, Penny. All thanks to Valley Star Goldendoodles. The breeder, Rebecca, guided me to the perfect pup. Penny has a precious demeanor. She loves all people, dogs and cats. Her favorite thing to do is hang out with her friends and go for long walks. She is very smart too and easily trained. I don't know how Rebecca bread such a wonderful dog, but I'm grateful she did. I'd highly recommend Valley Star Goldendoodles to anyone."
"I think the best way I can describe Boomer is that every time someone sees him they say that he is one happy dog, he literally is bouncing to meet new people. His personality is infectious and has brought so much fun and happiness to my life. Boomer is quick to learn and picks up new commands and tricks in no time. He has lots of energy, and is always ready to play both with humans and other dogs. He ABSOLUTELY loves toys, running around outside, and meeting new friends. The process of selecting a puppy and communicating with Rebecca was a breeze, and I enjoyed constant puppy photos and updates along the way. I cannot recommend Rebecca and her pups enough! I can't wait to come home everyday and see my boys smiling face!"