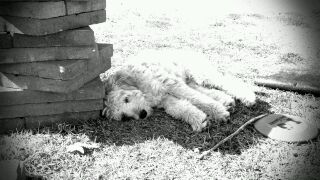 Hello!
Welcome to Valley Star Doodles! While growing up we always had golden retrievers as our family pet. My first dog was a golden named Maya and she changed my life. She was my best side kick for adventures, a shoulder to cry in times of sadness, and my first best friend. This amazing relationship I developed with Maya is what I hope to share with others through goldendoodles and bernedoodles. I now have Maya's puppy, Scrappy Doodle, who is a beautiful, teddy bear Goldendoodle.
Though I love golden retrievers, I know that they are not an ideal pet for all family's due to pet allergies, excess shedding, and size. When I first met a goldendoodle, I was immediately in love with this friendly, sweet yet intelligent dog breed. Goldendoodles have the lovable golden retriever personality and are also hypoallergenic, have low to no-shedding, and come in a variety of sizes. They seemed to capture the best in the golden retriever
My three females are my personal pets and they are a part of our family. From family vacations, to afternoon walks, and visiting family they are part of our pack. Our puppies are family raised, have beautiful conformation, and have very sweet and loving dispositions. They grow up in our home with lots of love and kisses! They are specifically bred for easy going yet playful temperaments which makes them wonderful family pets!
We are located in Maryland close to D.C. and Baltimore. We provide puppies in Maryland, Virginia, and the surrounding states including:
South Carolina

North Carolina

Washington D.C.

Maryland

Delaware,

Pennsylvania

New Jersey

New York

Massachusetts
*We never ship our puppies